Find a mix of some of our latest and greatest corporate resources…
Keeping your customer and financial data secure
Keep government technology operating securely and effectively
Take your hospital communication out of the critical zone
Organisations just like yours rely on NetSupport!
Need a solid helpdesk solution that won't break the bank?
3 critical reasons to update your company's software
NetSupport Notify Vs Email
NetSupport Manager V14 review by IT Pro
Three Crucial Attitudes For Adopting AI
AI forces how we define the lifespan of technology
Looking for a helpdesk solution that's effective and affordable?
Maintaining IT customer service in the cost-of-living crisis
Is your company's cybersecurity strategy up to date?
Using an ITAM solution to reduce risks and ensure compliance
Revolutionising corporate efficiency: the power of ITAM solutions
NetSupport Manager: a one-stop-shop for maintaining manufacturing technology
Published articles and written media
NetSupport has had a mass of topical articles published across a variety of magazines, websites and platforms. Why not expand your knowledge with our published library?
The Patisserie Approach to Sales Training: A Recipe for Success
How To Build Learner Engagement During Onboarding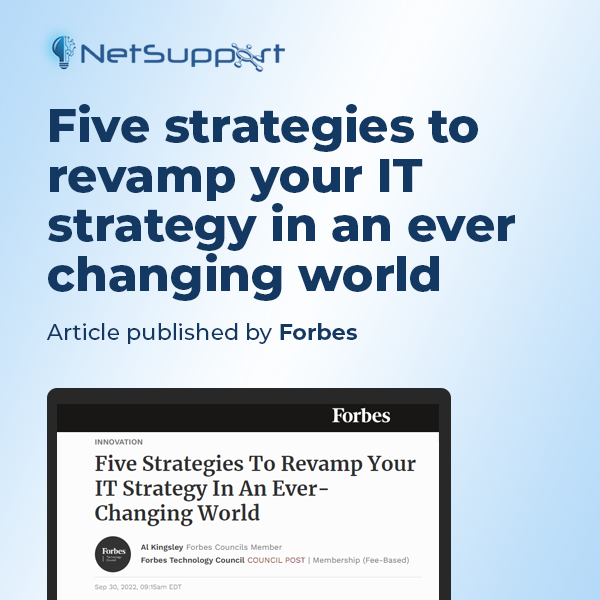 Five strategies to revamp your IT strategy in an ever changing world
Three tips for managing technology in the hybrid workspace
Making the right technology choices for your organistion
Who wouldn't want to be disruptive?
How to plan your organisation's new flexible tech landscape
16 tech experts share favourite apps they use every day
11 game-changing reasons to monitor your website traffic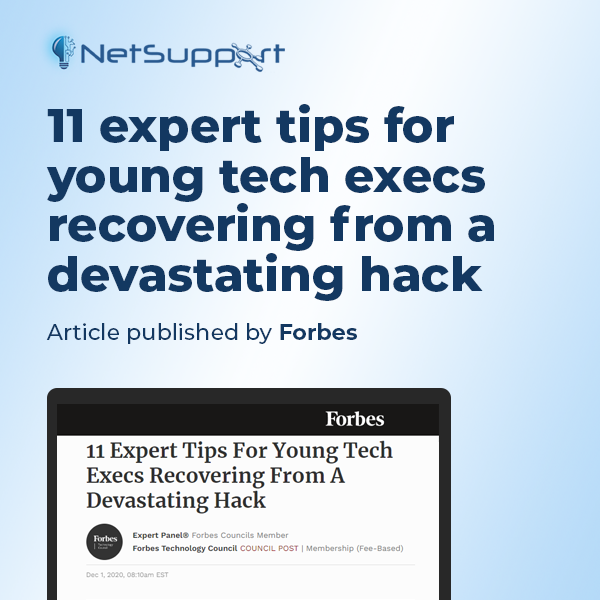 11 expert tips for young tech execs recovering from a devastating hack
16 essential things to consider when hiring an outsourced tech partner
How to keep your mobile workforce happy
Convenient, on-demand and relevant, podcasts are perfect for development or general interest. We've recorded lots interviews with esteemed guests – take a listen!
Insights with NetSupport (Corporate) - Cat Wildman
Insights with NetSupport (Corporate) - Pinky Ghadiali and Lauren Forbes
Al Kingsley does not speak in code
Product highlights of NetSupport Manager
Mental Health - trends and truths
How NetSupport School can benefit your company
NetSupport Notify frequently asked questions
How NetSupport DNA can support your business
NetSupport Manager frequently asked questions
Product highlights of NetSupport Notify
Whether you're looking for product reviews or tips for your organistion, we've got you covered! Check out this range of resources – all in different formats!
NetSupport corporate infographic
Building learner engagement with NetSupport School
NetSupport Manager review by IT Pro
What security settings are available in NetSupport Manager?
NetSupport DNA review by PC Pro
GUIDE: IT Asset Management in an SME
How much money and time is your business wasting?
From tips on maintaining productivity to using our software to reduce staff downtime, why not browse our extensive list of corporate blogs?
Public venues, have you heard of Martyn's Law?
10 areas where an ITAM solution delivers results
Making zero trust part of your digital strategy
Tips to overcome common IT barriers
Streamlining your company data made easy
Tips to better manage and maximise your technology
Communicating in emergency situations with NetSupport Notify
IT Asset Management solutions: 4 benefits for YOUR business
Scalable IT support solutions: how can they help your growing business?
6 ways to amp up your company messaging
What does the current energy crisis mean for your business?
Workplace Tips: Managing Social Media As A Job
Why apprenticeships are good for business
Staying serious about IT security
Maintain productivity in your organisation
Avoid IT downtime for staff working from home
What does great IT security look like?
4 more ways to trim company costs
Got the go-ahead to buy a new company IT solution?
Send alerts and notifications to staff working in the office or at home
Access our full resources library!
Complete the form to access all of these resources!
By entering your details, you agree to be informed about future free resources and offers from NetSupport.
You may unsubscribe at any time.